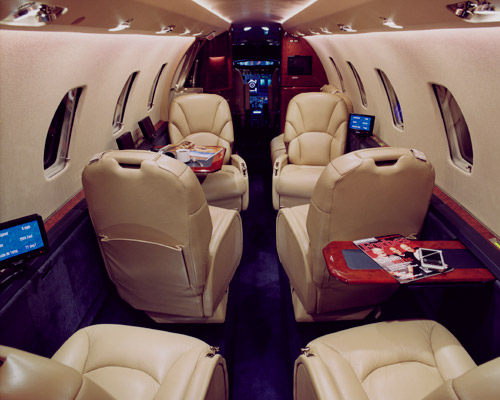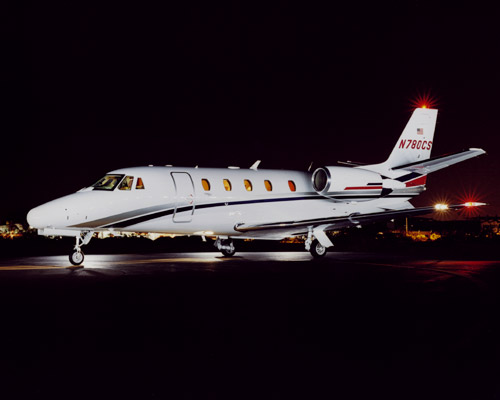 The Cessna Citation Excel is the next step up from the Encore with its slightly more powerful engines and larger cabin. Its comfort, performance, and reliability match Cessna's high standards in private jet travel.
Cessna created the Excel by combining the light jet wing of the Ultra, and the midsize fuselage of the Citation VII to form a gap between light and super-midsized jets.
The Excel has a range of 1,700 nautical miles, can cruise at a speed of 490 mph, and has over 3,800 lbs. of thrust per engine. It is also capable of taking off of runways as short as 3,500 feet and can climb to a cruising altitude of 41,000 feet in a brisk 15 minutes.
Excelling Midsize Jet
Enjoy a near silent and tranquil flight thanks to the draft-free, triple-sealed entry door and the new triple-pane windows.
The larger, more luxurious cabin can be arranged to seat either six or eight passengers comfortably. Choose from standard single seats with sliding headrests or relax on either a two or three-person divan.
The Excel is the leading midsize private jet and delivers world-class performance and efficiency. Experience high-class luxury and enjoy complete peace of mind today.
Aircraft Info
Manufacturer: Cessna
Model: Citation Excel
Range: 2136 sm
Altitude: — ft
Cruise speed: 498 mph
Capacity: 7-8 pax
Cabin Height: 5.7 ft
Cabin Width: 5.6 ft
Cabin Length: 24.0 ft
Cargo Capacity: 90 cubic ft
Experience an upscale way to travel and schedule your next flight on the Cessna Citation Excel Jet Charter today.