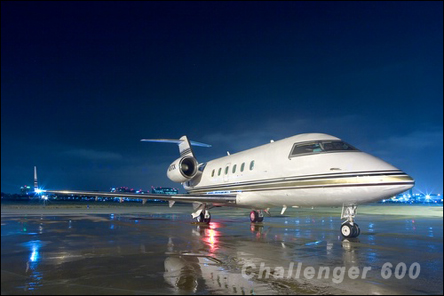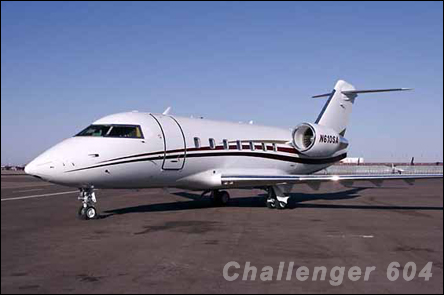 The more spacious, faster, and sophisticated Bombardier Challenger 600 casts an ominous shadow over all other aircrafts in its class.
For starters, the seating arrangements on the Bombardier Challenger include extra-wide, fully reclining single-seat executive chairs, three person couches that face the interior of the cabin, and the double divan layout which is actually the most popular choice for transcontinental flights. Depending on the configuration of the model, cabin seating ranges from 8-12 passengers.
Experience peace and quiet while onboard the Challenger 600 thanks to the nearly nonexistent vibration and noise levels inside the cabin. Plus, with a 30 percent increase in window size, you can enjoy some of the best in-flight views around.
The Bombardier Challenger 600 has a top cruising speed of approximately 500 miles per hour and a cruising altitude between 39,000 and 43,000 feet. This allows the Challenger 600 to fly above most other air traffic and even bad weather. Sit back and relax, or get back to work, while you fly anywhere in the United States or across the pond to Europe on a single tank of fuel
High Class at High Altitudes
When developing the Challenger 600 model, the designers made extensive use of customer, flight attendant, and pilot testimonies to make improvements to the plane and their research has certainly paid off. The result is a luxurious cabin with a more efficient and functional jet.
The Bombardier Challenger comes with the most high-tech equipment available. Each seat features its own 17 inch interactive monitor with a local, in-cabin network that provides high-speed internet.
The Challenger 600 also features plenty of outlet ports to charge your smart phones, tablets, and laptops. Through the use of LED lighting throughout the cabin, the interior of this plane offers better lighting for reading and working while also reducing energy costs.
Aircraft Info
Manufacturer: Bombardier
Model: Challenger 600
Range: 3700 sm
Altitude: 40,000 ft
Cruise speed: 502 mph
Capacity: 9-12 pax
Cabin Height: 6.1 ft
Cabin Width: 8.2 ft
Cabin Length: 28.3 ft
Cargo Capacity: 115 cubic ft
Experience an upscale way to travel and schedule your next flight on the Bombardier Challenger 600 Jet Charter today.